To begin placing bets with Betacular on your smartphone, you will need to download our app. Two versions have been developed for both Android and iOS for mobile device users. Through these versions, you can bet on cricket, kabaddi and other sports, redeem bonuses, use the cashier service and contact customer support. The user-friendly interface of the app allows it to be used even with just one hand.
| | |
| --- | --- |
| The current version of the application | 1.0.0 |
| APK filesize | 3.44 MB |
| Installed client size | 21.16 MB |
| Cost of loading | Free |
| Operating system support | Android, iOS |
| The app is available in countries | India, Bangladesh, Pakistan, USA, and other countries. |
| Access to live broadcasts | After registering |
| Access to sports betting | After registering |
| The current version of the application | 1.0.0 |
| APK filesize | 3.44 MB |
Betacular App Features
Finally, the Betacular app platform provides a unique mobile experience for Android and IOS users. On the app, players can find everything they need for an enjoyable gaming experience including an online casino, sports betting and a poker room. Whether you're using an iPhone, iPad or Android tablet, you can get unmatched mobile quality as it is constantly receiving updates.
The Betacular bet app is not limited to playing, you can also use it to make deposits and withdraw funds, take part in promotional activities, maintain loyalty programs and verify your account while contacting technical support.
Betacular Mobile Bonuses and Promotions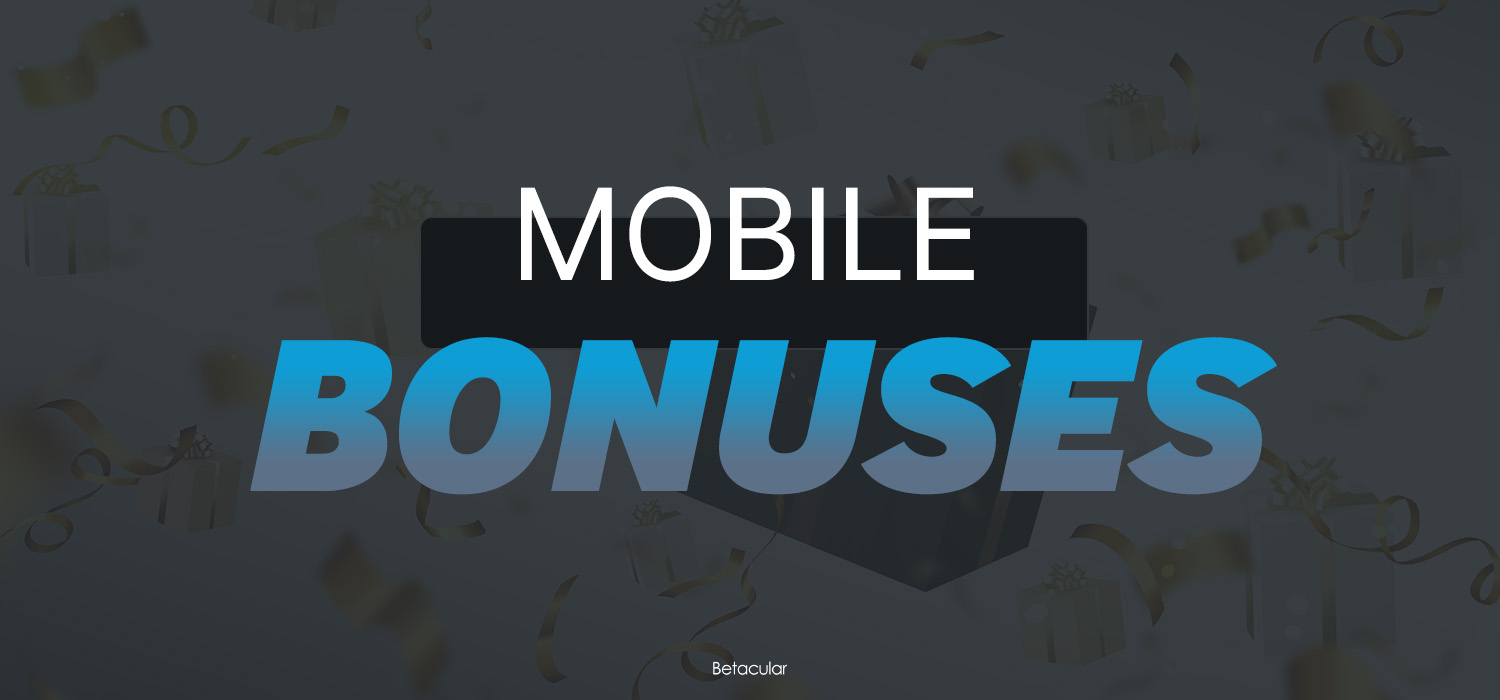 Betacular highly appreciates its customers, and that's why it offers a huge variety of bonuses too good to ignore! Right after registering, new players receive their first bonus allowing them to start earning immediately. Additionally, each deposit is rewarded generously. Every week the service holds "weekly promotions" where everyone has the chance to win some fantastic prizes. Just below you can see a small part of the unique bonuses that we offer in 2023:
100% Bonus for the first deposit up to 50₹;
50% Bonus for a second deposit up to 25₹;
25% Bonus for a third deposit up to 15₹.
How to Get the Betacular Mobile Bonus?
The requirements for obtaining the bonus are very reasonable and straightforward to follow:
Make a new account on the Betacular official website or get the app if you still do not have one.
Sign in to your account.
Make your first deposit on the site up to 50₹ per transaction.
Once you have made your deposit, wait for the bonus money to be credited instantly to your game balance. Your deposit amount will be increased by 100%!
Creating multiple accounts is not allowed by the platform's policy as each user is only eligible to receive the welcome bonus once. Therefore, users should not attempt to create more than one account.
Betacular App Pros and Cons
The Betacular app is extremely popular among bettors across Asia, including India. There are several key benefits that users can enjoy when they download this mobile sports betting app to their device:
One benefit is the convenience and ease of use of the app. Because it's designed for mobile devices, users can conveniently place bets in just a few taps, no matter where they are or what time it is.
Another benefit is the comprehensive range of markets available on the app. With a vast selection of events and sports to choose from, bettors will never be short of betting opportunities.
Thirdly, the Betacular app provides unique features such as live streaming video coverage, live betting options and cash out options. This will allow users to stay up-to-date with current games and manage their bets more efficiently and effectively.
Lastly, customers will benefit from top-notch customer service provided by the Betacular team, as well as safe banking methods that use secure encryption technology to ensure user data remains safe and secure. All these features make Betacular a great choice for those looking for an efficient and reliable mobile sports betting experience!
As for the cons:
Complicated installation process for Android, which can be difficult and time consuming;
Manual updates required to stay up to date with the latest features and bug fixes, meaning users need to check for updates frequently.
Functionality and Design of the Betacular App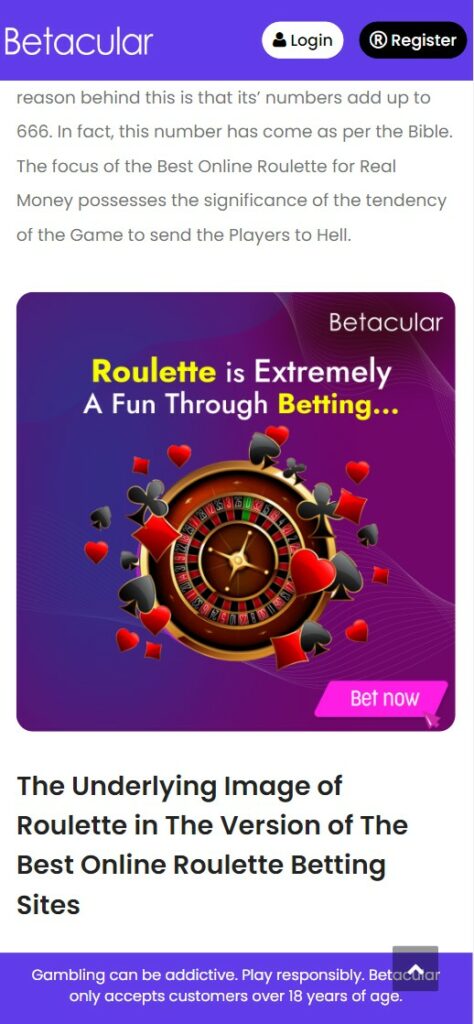 The Betacular app is an advanced and sophisticated sports betting application that combines a modern design with powerful functionality. With the intuitive user interface, users can easily browse odds for all major sports, compare and place bets quickly and securely. The app also provides real-time updates on bet outcomes and makes it easy to keep track of all your bets in one place. Additionally, users have access to features such as enhanced analytics and tracking tools to help them make informed decisions about their bets. Whether you are an experienced bettor or just starting out, the Betacular App will provide you with a comprehensive experience that has everything you need to maximise your earnings.
How to Place a Bet at the Betacular App?
Placing bets at Betacular betfair download app is easy and convenient. Follow the next steps in order to place a bet with the Betacular app:
1
Sign-up for an account in the app if you are a new user.
2
Select the type of bet that you want to place – single, multiple or system bet.
3
Choose the event, market and odds of your choice from the display options are given.
4
Enter the amount for which you want to make a bet and click submit.
5
After a successful submission of your bet slip, confirm it with Betacular's cashier page to finish placing your bet.
Betacular APK for Android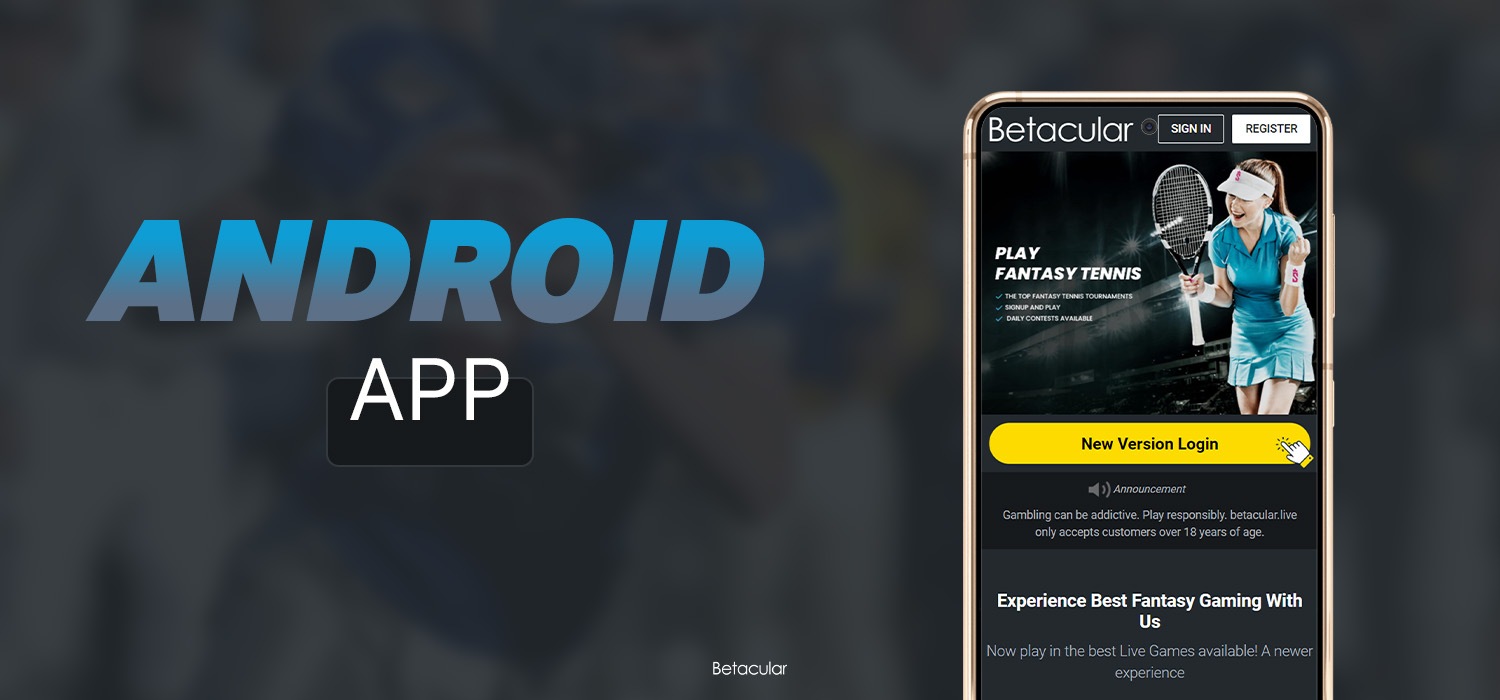 Betacular betfair viewer APK for Android is an amazing application that helps you to stay on top of your sports betting activity. It delivers all the analysis, trends, and stats required to make informed decisions about your bets. It features a modern interface with a wide range of tools.
How to Download and Install Betacular APK for Android
This app isn't available on the Play Market, but it can be downloaded from Betacular website without cost. The whole process will take anywhere from 3 to 5 minutes. To download Betacular APK, you need to follow 3 steps:
Follow the link on the official site. The installation file will instantly start downloading.
Run APK file. Click once on the installer and then click on "Install" in the pop-up window.
To log in, select your avatar and enter your phone number/email address as well as your profile password. If you registered with a social network, press the logo of the respective online platform to approve your login.
New players who do not yet have a Betacular account and are new players may sign up directly in the app by tapping on the "Register" link.
System requirements
Ensure that your device meets the following requirements before downloading the mobile application:
| | |
| --- | --- |
| OS version | 5.0+ |
| CPU | 1.2 GHz |
| RAM | 1 Gb |
| Free space | 100 Mb |
Betacular for iOS (iPhone & iPad)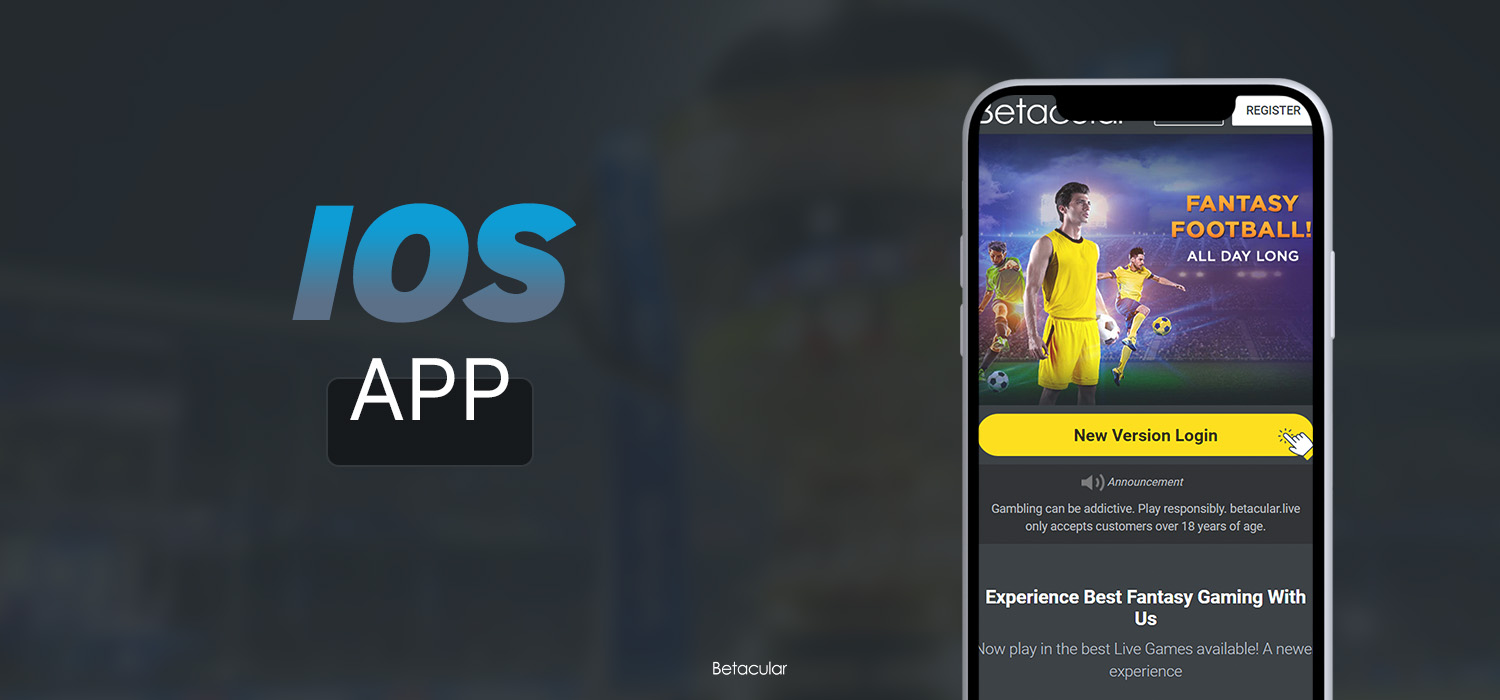 Betacular for iPhone and iPad mobile software is similar to that for Android in terms of the games and options available. Betacular for iOS is an innovative sports betting app designed to make the experience of sports wagering easier and more enjoyable. It enables users to keep track of all their bets and analyse the odds in real time, so they can make informed decisions before placing a bet. With its unmatched convenience and features, Betacular free download for iOS is the go-to sports betting app for iPhone & iPad users.
How to Download and Install Betacular App for iOS
To download the app just simply follow the next steps:
Go to Betacular download India mobile site.
On your homepage, choose "Mobile apps" from the menu located at the bottom. When you do this, you will be brought to a different page where you can obtain the file.
To obtain the app on your Apple device (iPhone or iPad), please click the provided link.
Ensure the Betacular logo is visible on your Apple device, then tap it to start the program. Take full advantage of all the benefits the Betacular India app has to offer!
System Requirements
Make sure that your device is compliant with the below requirements before downloading the mobile app:
| | |
| --- | --- |
| iOS version | 8.0+ |
| RAM | 1 Gb |
| Free space | 100 Mb |
| CPU | 1.2 GHz |
The Devices are Compatible with the Betacular app
The Betacular app is compatible with a range of different devices. We created lists for our users to understand if their device is suitable for the Betacular app.
iOS
Here is a list of available iOS devices where you can load the betacular application:
iPhone 6 and 6 Plus model;
iPhone 7 and 7 Plus;
iPhone 8 and 8 Plus;
iPhone X and XR;
iPhone SE model;
iPhone from 11 to 14;
iPhone Pro and Pro Max version;
iPad (the fourth release);
iPad Air and Pro;
iPad (Mini version).
Android
Here are the most popular Android smartphones where the Betacular app operates without any problems:
Huawei Android phone 58 Lite;
Huawei model P30;
Samsung A51 and A52;
Samsung Galaxy S6;
Redmi Note phone (7, 8, 9, and newer).
The Betacular App Update
Developers regularly make changes to the Betacular application, such as adding new features, improving the design, and adding new payment methods. Whenever a new version of the software is released, it is automatically updated in the Betacular app without the need for user action. Typically, this process is completed within a few minutes after launch.
Betacular App Login Guide
The website and mobile app have been designed to make authorization as uncomplicated as can be, needing just two steps to complete:
Go to the website or application you want to access, and find the login page.
Once there, type in your username and password associated with your account. Click the "Login" button and wait for the page to load. You should now be logged in to your account.
Betacular Casino App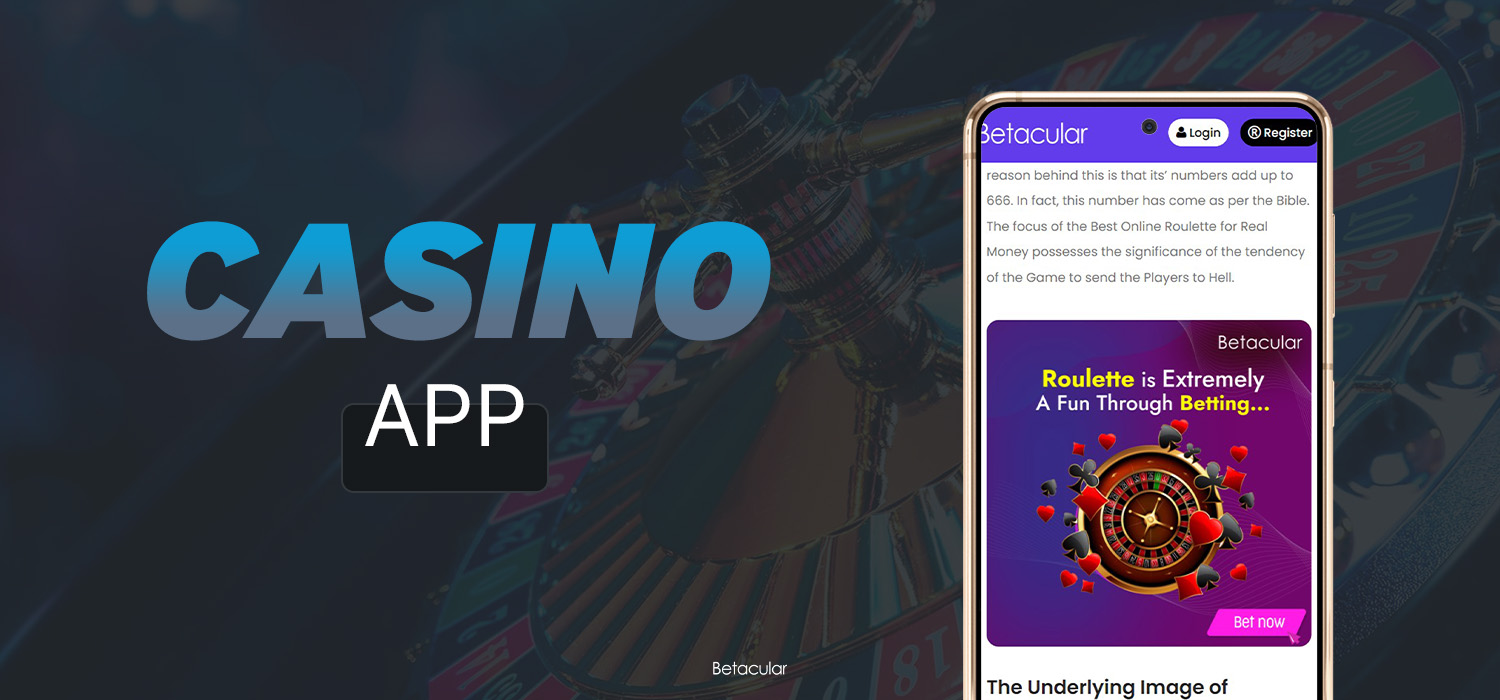 Our group is putting forth tremendous effort to develop a vast selection of games to bring joy to our patrons regularly. Here you will find:
Casino;
Slot machine;
Casino Royal.
The Betacular Casino is an online casino that offers a unique gaming experience for players, with its huge collection of games and excellent customer service. Players have access to classic table games, live dealer games, slots, and video poker powered by leading software providers. With a variety of safe banking options including Bitcoin and Neteller deposits as well as reliable customer support available through phone or email 24/7, Betacular stands out from the crowd as one of the best online casinos around.
Creating an Account with Betacular App
Creating an account on the Betacular app is simple and straightforward. To create a user profile, open the app, tap "Sign Up" on the bottom of the welcome page, enter all required information such as your name and email address, choose a secure password, agree to the terms and conditions, and then click "Register". Once registration is complete, you will receive an email with a confirmation link which must be clicked in order for your account to be activated. After activation is complete, you can start using the Betacular app to make bets or check results.
Sports Betting in the Betacular App
Try your luck on your favourite sport event with Betacular bet functions, offering betting possibilities for Betacular cricket app, horse racing, football and more! Tracking the betting odds on betfair markets is simple and convenient as you follow along with the game. Don't forget to make use of all bonuses in your account that can be used for sports betting!
Betting Options in the Betacular App
Betacular stands out with its full-range game evolution and a variety of deposit and withdrawal choices. On top of that, Betacular is also exploring other online payment solutions. Simultaneously, the sports gambling industry has produced incredible tools and models for sports bookmakers and various others within the field.
Betacular Mobile Website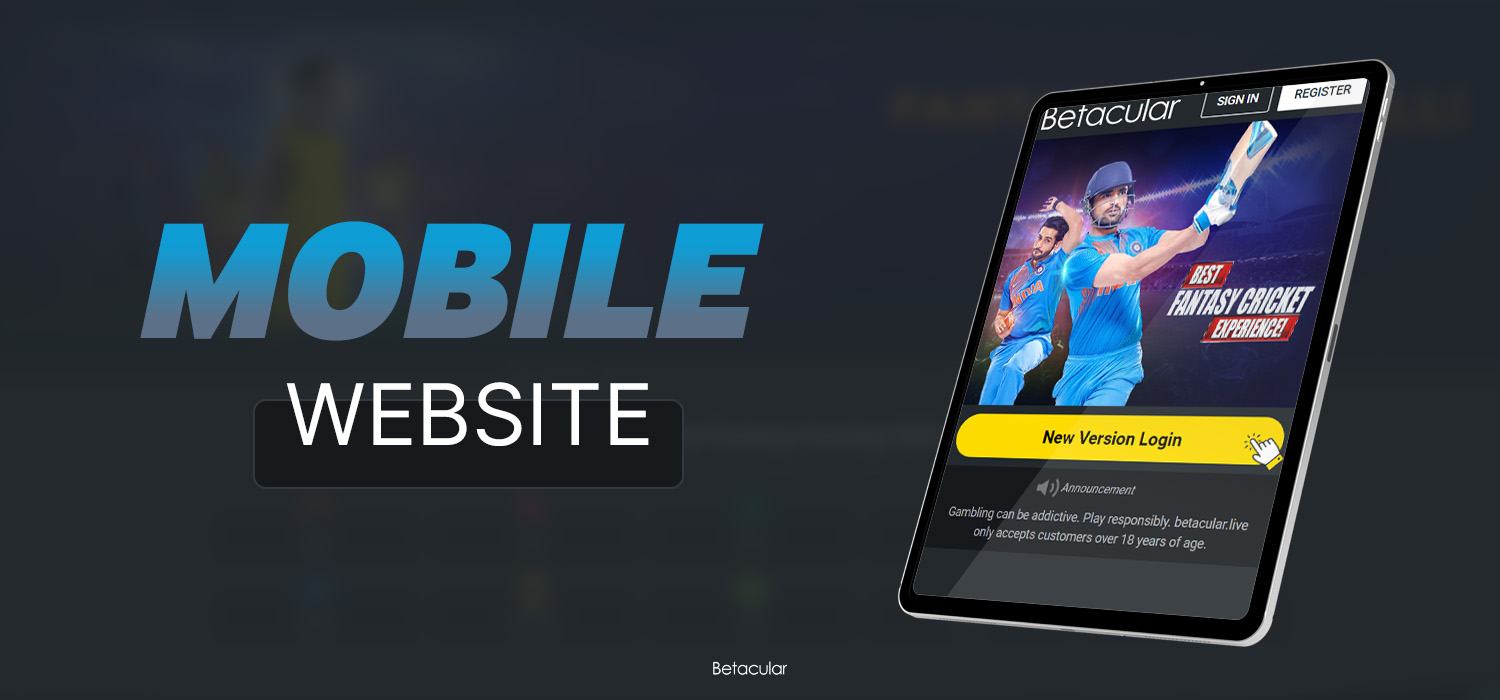 For those bettors in India who are looking to save time and phone memory, the mobile version of the Betacular website offers a great alternative. With its simple design, it won't distract you from finding sports events and placing bets to make money while on the go.
How to Use the Web Version of Betacular?
This platform can be accessed by any Apple or Android device as long as users have an uninterrupted internet connection. Signing up and logging in is easy, and there's no need for any downloads or installations.
System Requirements for the Mobile Version of the Betacular Website
The mobile version of the Betacular website must have a compatible operating system with an internet connection, a device such as an iPhone or Android smartphone with a minimum of 512 MB of RAM and at least 4GB of free storage space. It should support the latest versions of major web browsers including Chrome, Safari, Firefox, and Internet Explorer.
Depositing and Withdrawal via Betacular India App
Our online platform ensures that you can easily and quickly both add funds to your account as well as withdraw money. This is possible thanks to our company's connections with multiple Asian banks, which provide secure services for deposits and withdrawals.
| | |
| --- | --- |
| Currency | USD, INR |
| Minimum deposit | 1$ |
| Minimum deposit amount | 5$ |
| Monthly withdrawal limit | 1 000 000$ |
| Transaction limit | No limit |
Why Bet With Betacular Mobile Apps?
Betacular Mobile App is an innovative, secure and easy to use betting application. It offers a wide range of sports and horse racing markets, making it ideal for both experienced and novice bettors. The app also provides real-time information on live events as well as up-to-date odds and price changes. With Betacular's user-friendly interface, you can place bets quickly and receive winnings fast via secure payment gateways.
Betacular Support
The most efficient and effective way to get in touch with Betacular's team is through our dedicated support system. We are available 24 hours a day, 7 days a week to assist all of our customers. Our experienced staff will be happy to provide you with the assistance and guidance required for a successful journey on Betacular!
FAQ
Will I be able to use the bonuses from my mobile device?

All of the bookmaker's promotional offers, contests, and customer loyalty programs can be accessed through the mobile application.
Can I sign up for a betting account from my cell phone?

You have two options to create an account with your phone: connecting it to a social media profile or linking it to an email account.
Can I trust Betacular?

Sure, Betacular is a licensed bookie where all your data is safe.
How old should I be to use Betacular?

In order to legally gamble and utilize Betacular, one must be at least 18 years of age.
What currency can I use for the First Deposit?

USD and INR are available for deposits at Betacular.